In Motion Ministries Staff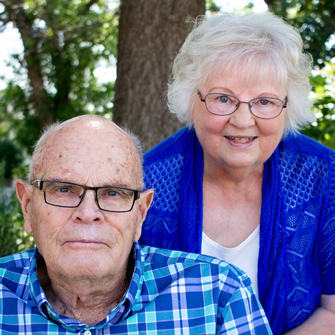 Founder of In Motion Ministries
Norma Dunn
Missions Consultant and Leadership Development
As well as being a full-time teacher, Norma spent years training youth teams and organizing and leading these teams on mission trips throughout the United States. In 1986 Norma officially founded what is now known as In Motion Ministries. The first team went to England, opening the door for the many teams since that have gone to more than 50 nations. In 1996 her son, Seth, became the CEO; but Norma remains an active staff member. She takes great joy in knowing that in addition to the fact that the Good News of God's love is being taken to the nations, each team member has their own life changed as well. Norma holds Bachelor Degrees in Music Education and Elementary Education and a Master of Music Education from the University of Northern Colorado. She is an ordained minister and a published author.
Norma's husband, Richard (1936-2023), was her partner in making all of this work. He served as a team leader and was one of the original members of the IMM Board of Trustees. His quiet background work and support were an important part of the establishment and well-being of IMM. Rich earned both B.S. and M.S. degrees in Agricultural Economics at Colorado State University, and he is a U.S. Army Veteran.
Director of You Are Worthy Ministries
Associate Pastor at Fusion Church
Vicki Brawner
Vicki is the Co-Director and Founder of You Are Worthy Ministries and an associate pastor at Fusion Church. She has served as a missionary in Costa Rica, as a short-term mission trip leader in more than 30 countries, a youth leader for her church, is a singer/songwriter, an ordained minister, and published author. She is filled with compassion for those struggling to see themselves as Jesus sees them, and gently invites them into the journey of discovery and acceptance of their true identity in Christ. Her favorite place to be is on a mission trip, serving the team and the host, spreading God's love and light to everyone around.
Marketing and Administration
Kenzie Dunn-Morris
Kenzie joined IMM as a staff member in May of 2018, but has been involved in short-term missions since childhood. At a very early age she recognized the significance of God's presence in people's lives, and so her greatest desire is to see people know the intimacy and depth of His love. Kenzie earned a B.A. in Psychology and is currently working towards an M.A. in Biblical and Theological Studies at Covenant Theological Seminary. At IMM, she fills roles in Marketing, Administration, and Teaching. She's also a flower farmer in the summer and can't help but get her hands in the dirt any chance she gets!