Are you interested in ministry and missions?
Are you looking for an opportunity to grow deeper and go further in your Spiritual journey?
Do you like the sound of a challenging experience that will propel you into the destiny God has called you into?
Ignite is a 2-week mission training intensive for passionate individuals like you. Participants will engage in classes, training exercises and hands-on ministry activation. This adventure includes a wilderness retreat to the Rocky Mountains and culminates in a week-long mission trip to Costa Rica to implement all of the intensive training. Are you ready to take the leap and have the experience of a lifetime?
Dates
July 20th – August 3rd, 2020
Cut-off Date
April 10th, 2020
Plenty of room for more people for an affordable Mission trip and training event.
Flights to Colorado not included and price varies from where you fly into Colorado from.
What's in it for you?
After Ignite, you will have experienced God in whole new ways that you never imagined. We are on a mission to understand God's true character and be changed into His likeness. We are aiming to embrace our true identities, grow in our capacity to lead and serve in love, and change the world through the power of the Holy Spirit. You will practice flexibility in adverse situations, learn the qualities of healthy ministry and leadership, and live from a scriptural foundation while practicing in an environment where it's safe to risk and grow. The relationships you build will last a lifetime.
In addition, if you're interested in continuing your missions journey, students will graduate from Ignite with a certification of completion and a "Leader In Training" status with In Motion Ministries. With an LIT status, mission trip costs are greatly decreased and you will gain access to further training, ministry and missions resources for as long as you continue your journey with In Motion Ministries.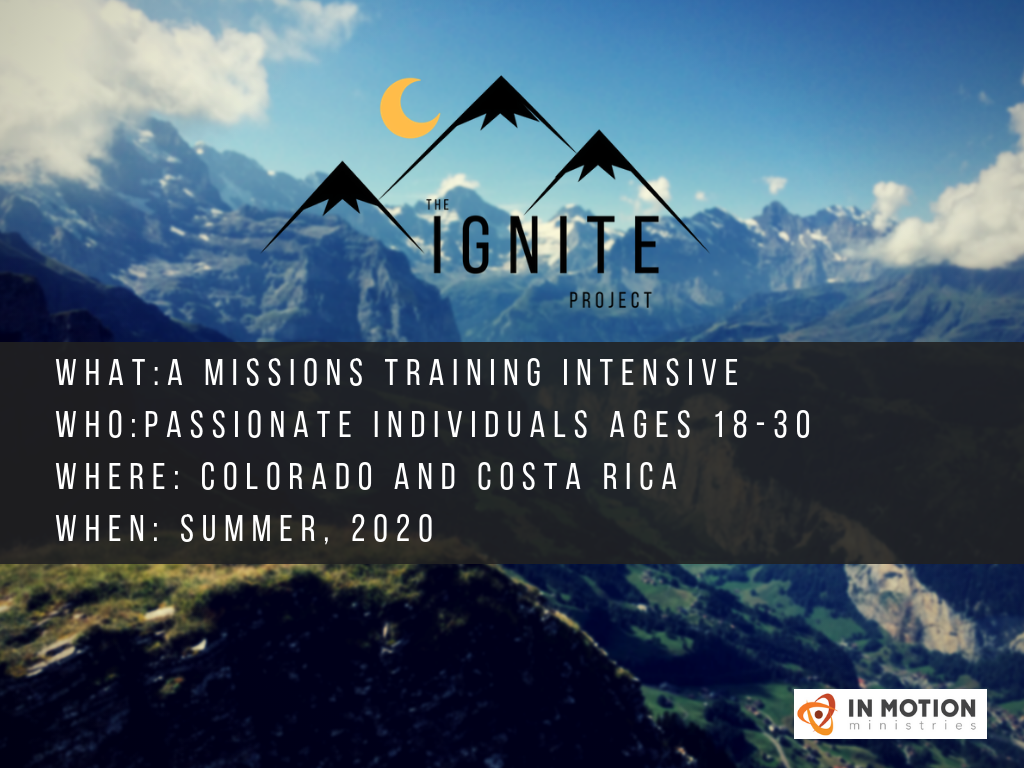 What's included in the cost for Ignite?
5 days in Colorado
Housing
Meals
Teaching, class materials and hands-on training
A wilderness retreat in the Rocky Mountains
One week mission trip to Costa Rica including flights, transportation, housing, food and ministry expenses.
Total cost: $2,549.00
Not included is flights from your home airport to Colorado since that could be anywhere in the U.S. Research tickets to DIA (Denver International Airport) for an idea of how much more to raise.
We want you to be a part of our Ignite family! So, if you have any Questions reach out. We are quickly responding to everyone. E-mail or call us for more information.
Contact Page with all the Easy Details
Sign-up for Ignite Updates
Got the passion? Put it to use.
Ready To See What's Next?
Register to join the Ignite project with other young professionals and adults who have a passion for short term missions. As with anything, the first step is often the most important.
Register Today